At the end of the day, real estate is really a business that's all about people. It's people that fuel and drive deals from start to finish. As such, it's no wonder why networking, referrals, and prospecting have always been top-of-mind for this highly social industry.
When people and professional interactions are such substantial drivers of real estate success, it's amazing to see so many industry professionals handle CRM the old fashioned way. Rolodex anyone?
Of the real estate CRM buyers surveyed in a recent study, 17% of respondents had previously been using spreadsheets, 17% used email, and 19% used pen and paper to handle their client engagement. In 2018, only 10% of Realtors respondents to NAR's REALTOR® Technology Survey planned on purchasing CRM software in the 12 months.
At a time when technology is completely integrated into real estate workflows, these numbers are astounding. The slow adoption of tech-powered CRM software within brokerages is preventing real estate groups from maximizing their marketing, sales, and lead generation potentials.
Of course, not all CRMs are the same. Real estate brokerages and teams need to know how to navigate the competing providers and find the software that's best suited for their team's unique needs.
CRM offers real estate brokerages the chance to boost their capacity, expand their business, and improve the experience clients have when working with you. If you're thinking about purchasing a real estate CRM software, this is what you need to know to make a smart decision:
Real Estate CRM Explained
For those who haven't dipped their toes into CRM software, it's okay if you're not exactly sure what a CRM even is — let alone why it's important to have one. Real estate is full of tricky acronyms, so here's a 101 look at digital CRM.
Customer Relationship Management, or CRM, is a software that employs an organized hub of cutting-edge technologies to manage your leads, clients, deals, marketing, networking, the list goes on.
Since we've already established that real estate is a social business — fully dependent on clients and propelled by sparking connections — an industry CRM is really a complete software to manage your brokerage's business. It's not just a thing you use to send emails or stores your contact information and deal details.
The technology-driven CRM takes the client management process to an entirely new level of efficiency, access, and productivity.
Benefits of Using a Strong CRM
When you purchase a CRM, get ready to gain access to all of these 4 brokerage benefits:
#1. Organization, Access, and Ease
In a nutshell, a winning CRM software makes life easier for your agents and brokers. A good CRM platform is incredibly organized, easy to navigate, and convenient to access. In terms of organization and access alone, CRMs save you time, energy, and stress – we all know how it feels when you can't find a client's contact information or deal information when you really need it.
But, CRMs also shave off many of the redundant and time-consuming tasks off of your daily to-do lists. CRM platforms automate many aspects of client outreach and lead nurturing. Agents can also set up intuitive web pathways that can assist clients, set up appointments, and much more.
When your team's real estate workflow becomes hands-free, your agents and brokers can spend more time on more pressing tasks.
#2. Data-Driven Analytics
CRMs add a new dimension to your brokerage's strategy. The data collection and analysis generation of CRM software can't even be compared to other customer relationship protocols. CRMs can track and monitor the movement, pace, and progress of deals — unlocking strategic analysis that points out weak spots, potential improvements, and creative solutions.
Modern CRM software can even utilize predictive analysis to project the next move of leads, allowing your team to make the best possible counter-move. You'll literally be able to stay one step ahead of your clients.
This extensive look at your business flows is only available to CRM software users.
#3. Lead Nurturing
If you want to truly delight prospects, use a strong CRM software. Nourishing leads is the basic foundation for finding, converting, and closing deals. Automated lead nurturing programs are a part of the basic CRM software model — streamlining the outreach process for you, and improving the client's experience with transaction communications.
A good CRM will be able to walk prospects through every step of the conversion process into the deal's closing and even extending into post-transaction outreach. Your leads deserve the best, so set them up for success with an A-grade CRM.
#4. Manage and Enhance Listings
Strong CRM platforms make managing listings easier than ever. A broad spectrum of MLS integration keeps your brokerage plugged in to all of the most popular portals, substantially increasing marketing reach without the added effort. The process of creating, editing, and syndicating listings is streamlined while boosting on social is a breeze.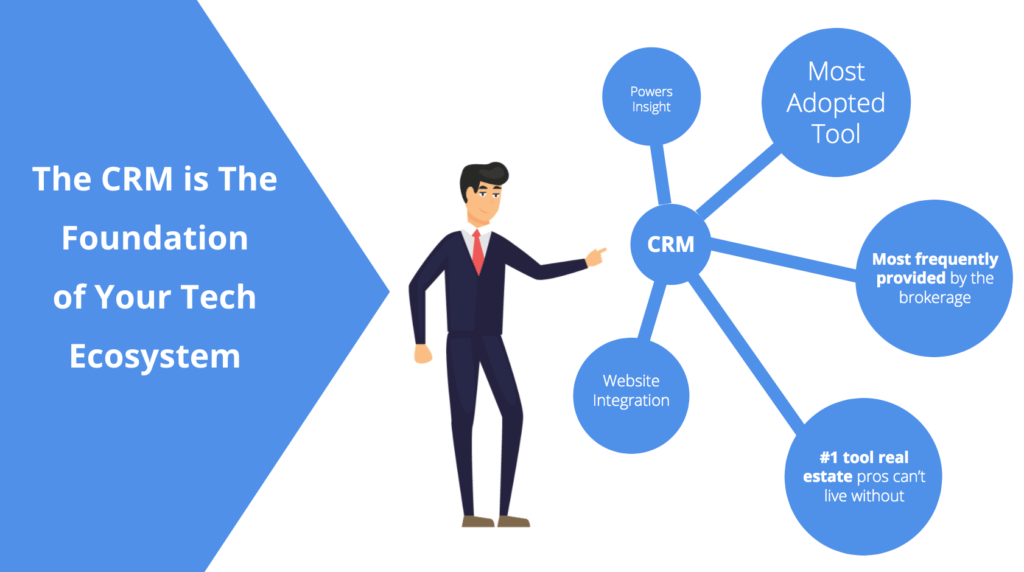 Source: Propertybase Real Estate Technology Benchmark Report. Get it here!
7 Things to Consider Before Buying a CRM
Ready to purchase a premier CRM software for your brokerage? Be sure to make these 7 considerations before you buy to ensure it's the best and most strategic fit.
Examine Your Brokerage's Needs: Take a moment to examine your team's needs so you can shop for specific features and tools.
Shop for Integration: If you're not choosing an end-to-end CRM platform, you'll need to make sure your decision will be able to merge with your existing systems.
Talk To Your Agents: Don't exclude your sphere from this decision. Ask your team for their insights about CRM software to keep everyone engaged in the process.
Inquire About Training Opportunities: Your team will need to understand the tech to make the most of it. Ask prospective providers if they offer programs to train your agents.
Request a Demo: It never hurts to ask for a sample. Give your prospective CRM a whirl before you make the purchase to ensure you're happy with it.
Always Ask Questions: When you're searching the market for any business software, always ask as many questions as you have. It's better to ask and make an informed decision than to find out when it's too late.
Opt for an End-to-End Platform: If you're interested in bundling your PropTech software into one top-tier suite, look for end-to-end solutions that include CRM, as well.
According to NAR, 35% of real estate agents want CRM software to be provided by their brokerage. Additionally, our in-house technology benchmark survey found that CRM is the #1 tool realtors can't live without. What are you waiting for? Request a demo to learn more about how Propertybase's end-to-end real estate management suite takes CRM to an entirely new level.